A wide range of powerful, compact electronic components has been developed for FAULHABER drive systems. Graphical overview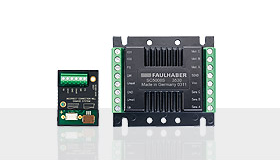 FAULHABER Speed controllers are specifically designed to get the most out of FAULHABER DC and Brushless Motors. They are compact and easy to use and provide precise and efficient speed control. The individual drive parameters are simple to adjust via a computer and the free FAULHABER Motion Manager software.
Supply voltage from 4 to 50 V, currents from 1 to 8 A continuous, Voltage input 0-10 V, Error output FG more>>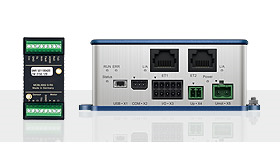 FAULHABER Motion Controllers are easy to use single or multiaxis positioning controllers tailor made for the control of FAULHABER DC, Brushless, and linear motors. For high resolution dynamic positioning applications, or high precision speed control applications they are available with serial, CAN or EtherCAT interfaces and can be configured the free and easy to use Motion Manager software.
Supply voltage from 5 to 50 V, currents from 1,1 to 10 A continuous, several configurable inputs and outputs more>>