FAULHABER offers the largest consolidated portfolio of miniature and micro drive technologies available in the world.This unique basis provides almost limitless possibilities for innovation.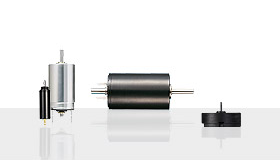 FAULHABER DC-Micromotors differ from conventional iron core DC motors in that the rotor consists of a self-supporting, skew wound copper coil. Among the inherent properties of this pioneering design are an extremely low rotor inertia and zero cogging or preferred rotor position. These factors help to define the uniquely high, power to volume ratio of the motors as well as their extremely dynamic performance characteristics.
From Ø 6 mm with torque 0,1 mNm to Ø 38 mm and torque 224 mNm more>>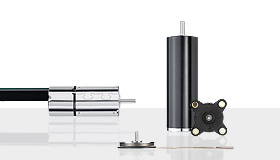 Whether it's high torque 4 pole servomotors, highly efficient flat motors,or compact slotless motors, FAULHABER specializes in getting the most performance out of the smallest package. Due to their design FAULHABER brushless motors are ideal for heavy duty servo applications with frequent overload conditions as well as for continuous duty applications where maximum operational lifetime is required.
From Ø 3 mm with torque 0,02 mNm to Ø 44 mm and torque 217 mNm more>>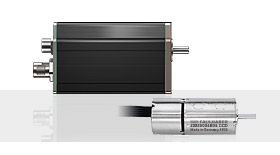 FAULHABER Motion Control Systems combine the high performance of a FAULHABER brushless motor with tailor made drive electronics to create the industry's most compact integrated motion solutions. Whether it's precise speed control or a highly complex positioning application in a RS232, CANopen or EtherCAT control network, FAULHABER Motion Control Systems provide the flexibility, performance, and value to fit a wide range of applications.
From Ø 22 mm with torque 18 mNm over Ø 32-35 mm to body 42×50 mm and torque 96 mNm more>>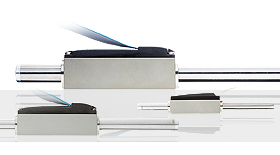 QUICKSHAFT® Linear DC-Servomotors bring linear motion to new dimensions. These high performance, miniature, linear motors consist of a solid stator housing and coil assembly and a multi-pole magnetic forcer rod. High power magnets help the motor achieve its excellent force and dynamic speed performance.
From square 8×8 mm with force 1 N to 20×20 mm with force 9,2 N in several different lengths of magnetic rods more>>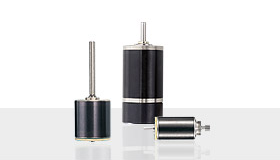 Robust assembly, high speed range, and exceptional performance in even the harshest environments make PRECIstep® drive systems the perfect solution for demanding positioning applications. They are available with a wide variety of modular servo components like encoders, zero backlash gearheads, integrated lead screws and much more.
From Ø 6 mm with torque 0,2 mNm to Ø 22 mm and torque 22 mNm more>>